29.12. 2009 I Sky is 14 months old!
We had a shooting in snow with my sister, Jasna:)
December 2009 I Collie meeting in Ljubljana
We spent a nice afternoon with Katarina and Ruby, Urša and Melly, Urša and Sky's brother Osty and Nika.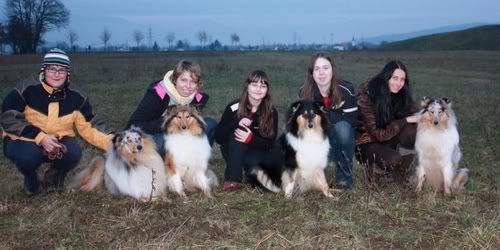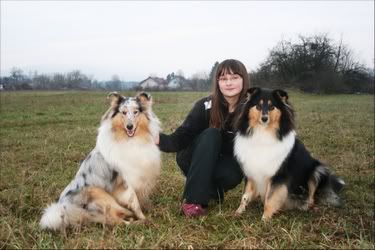 Nika with Sky and Ruby
December 2009 I We have snow..and Sky loves it!:)
21.11.2009 I Special show, Zagreb, Croatia
Sky's breeder Neda, her 3 collies, Sky and me went to Zagreb to be part of British Sheep Dog special show. It was very nice and relaxed show as the judge Brenda Banbury is a really nice land friendly lady. She gave Sky excellent grade and second placement as she saw Sky didn't really enjoy this show. Sky was tired from the long drive and kind of nervous in the ring...which was, as usually, mostly my fault. But the judge really admired her colour and nice expression, so I am happy with the result. First placement and junior cac went to Neda's new girl, Moon, who is a beauty without a doubt and has no problems being in a ring ;) Neda's othergod, Dandy got very promising and was second best puppy of the show and her youngest girl Lexy was very promising 2. What an evening :)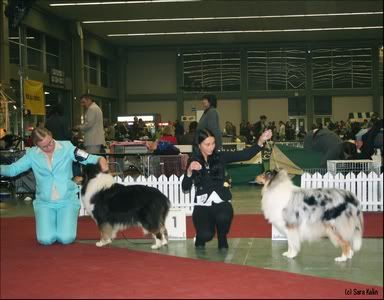 Moon and Sky in a ring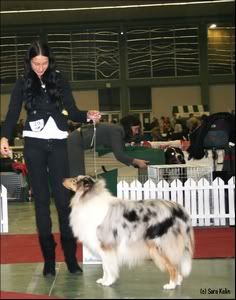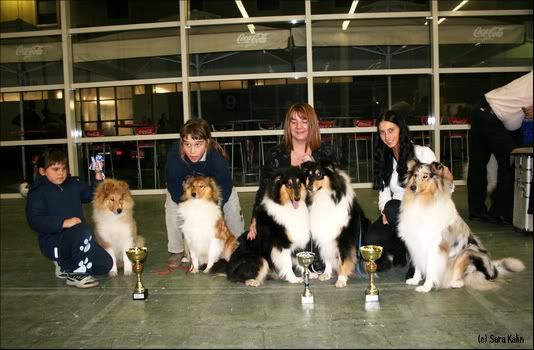 Slovenian collies in Zagreb - Billy, Lexy, Dandy, Moon and Sky
8.11.2009 I CACIB Vrtojba
Sky charmed the very strickt judge Life Herman Willberg and got fantastic description with excellent grade and first placement! I am very proud of my little pearl!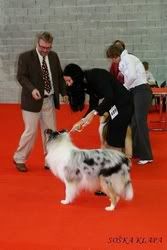 With the judge Life Herman Willberg
7.11.2009 I Picnic at my place
5 rough collies and their owners came to visit me and Sky. It was a great afternoon and we had a lot of fun watching all this beautiful collies run and play!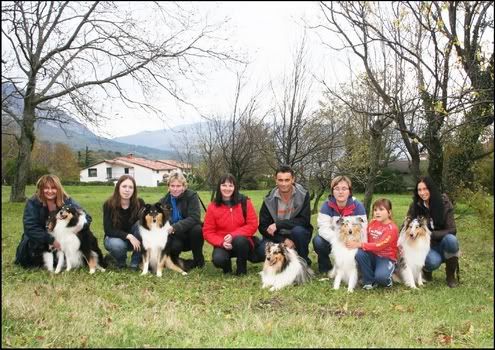 29.10.2009 I Sky is 1 year old! Happy birthday my dream girl!
One year ago, on that day, something wonderful happened - a little blue merle girl was born into Holy collies kennel. She was the 1st of seven beautiful puppies. When her breeder Neda called me, I started jumping and screaming of joy! I was all crazy for whole two days!! I would later visit my little Sky and her siblings every weekend and patiently waited for her to come home with me. When she finally arrived, I was so happy. That was the second best day of my life(the first was when I got my first collie, Gaja). Sky was something special right from the start, not only sooo cute and beautiful but also really smart and so full of energy. She was, and still is, much more that I could have ever dreamt of. She is filling my days with felicity and joy and I am so happy destiny has brought her into my life!
17.10.2009 I Picnic of Holy collies
We all met up at Sky's breeder Neda and enjoyed an afternoon at her ranch. There were more than 10 collies and it was a true joy watching them play and run. Also Sky's sister Glory and brother Zorro where there and I am really happy to have seen them. Too bad the other half or our A litter couldn't make it, but hopefully I will see them soon on some of the upcoming shows!

Sky with her relatives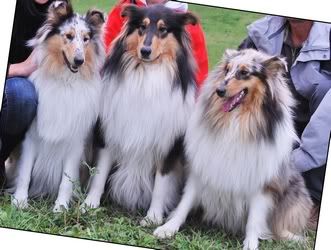 Sky with her brother Zorro and sister Glory
Playing football :)
26.9.2009 I 11 months and CACIB Celje
For Sky's nearly 11 months birthday we went to the Cacib Celje dog show. That was our 1st indoor show and Sky was fantastic! She didn't mind being stuck in a closed-space with loads of dogs, she performed really well in a ring and she got a fantastic description along with grade Excellent1, JCAC and even Junior BOB!
With Androma Ice Melody - Melly
The judge Josefina Gómez-Toldrà owns a kennel Del Gran Kahnn and has been breeding rough collies for 30 years, so her opinion means a lot to me!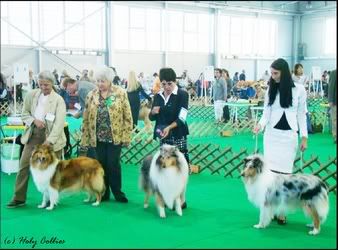 With the judge Josefina Gómez-Toldrà
17.9.2009 I Sky's tricks and Agility
I finally made a video of most of the trick Sky knows. Some of them we learnt is puppy school, and some at home. Check it out: Sky's tricks
13.9.2009 I The afternoon with Katarina, Ruby and Lord
We visited Sky's friend Ruby, who is a 7 months old tricolour girl, and Lord, a three old handsome sable boy. They have great fields for running and our collies had the best time. It was a pleasure waching them run and play :)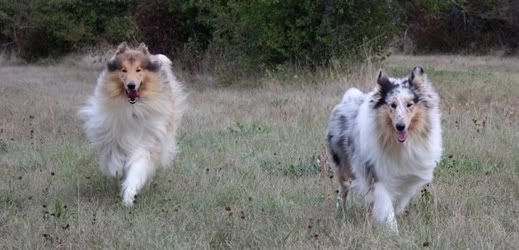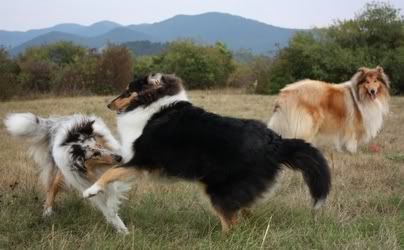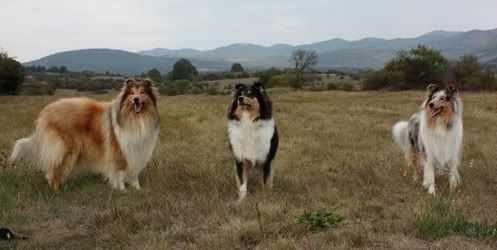 29.8.2009 I My princess is 10 months old!
6.8.2009 I A trip in the mountains
We went for a all day trip to the waterspring of 'Soča' river with Sky's sister Glory and her family. The girls had the best time and so did we.
Girls in the mountains
At the Soča waterspring
In Kranjska Gora Siamese twins :)
15.8.2009 I Cac Gradisca - Isonzo, Italy
After a little break, we are back in the show world! Sky was in the class of young dogs for the first time and the judge liked her very much. She got excellent and very nice description so I am very proud of her! Also her behaviour was much better, she was not afraid of the judge and did not try to run away. We have to practise some more, but I am very satisfied with the progress we have made :)
With the judge Montenau Petru
Also her beautiful sister Toffe was there so the girls had the chance to see each other again.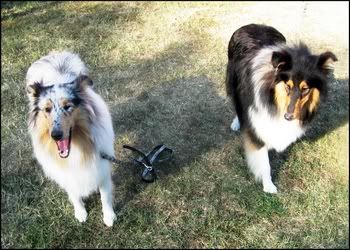 29.7.2009 I My beauty is 9 months old!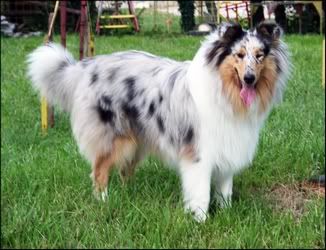 17.7.2009 I A visit of sister Glory
We finally took time to visit Sky's good friend & sister Glory. Princess Glory lives in a real paradise.The place is surrounded by green fields and loats of trees, there is a little pond and she has a company of 52 rabbits, 2 cats and a few chickens.
First thing Sky did was falling into water! At least we know she knows how to swim! ;)
Sky and Glory love to play together
Getting to know kittens and rabbits
And this is sisters posing :)
6-14.7.2009 I A week in Maribor
We stayed in Maribor for the Lent festival and Sky really enjoyed the long walks along the Drava river. Everyday we also met some old or new friend so it really was a fun week.
With a new friend, 6 months old rough collie Midnight Lady With Lady and Mimi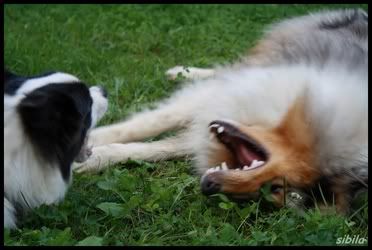 Playing with her good friend Mimi
5.7.2009 I CACIB Lendava and visit of Unique's Diamond collies
This time we went to a show just as visitors and to cheer for Sky's siter Glory. It was a nice show but the day was way too hot and humid and some dogs, including Glory, felt really bad. She still did great and it was really nice watching her great presentation in the ring.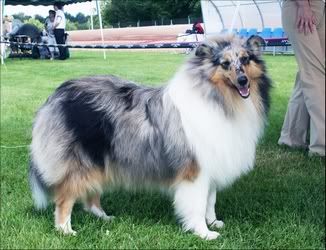 After the show we went to see Lea and her rough collie Adria and smooth collie Sena. Sena is the 1st and only smooth collie in Slovenia. The girls are great, really beautiful, nice and ful of energy. They got along great and played the whole afternoon while we were drinking coffe and chatting :)
Sena and Adria Girls playing
4.7.2009 I Visit of Holy Collies
We went to Sky breeder Neda's ranch and spent a really nice day there with her, her sons and her collies. I finally got the chance to met her new tricolours, Moon and Dandy, and they are both so adorable!
Me enjoying among the collies Sky with her mum and dad :)
Moon and Dandy Children and collies playing
1.7.2009 I A weekend in Maribor
We went to Maribor to meet a 3 months old rough collie Naya and her owner Ana. The little pup is really sweet and we spent a nice afternoon with her and with Sky's old friend, border collie Mimi.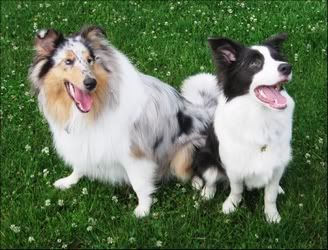 29.6.2009 I Sky is 8 months old!
Happy birthday babe!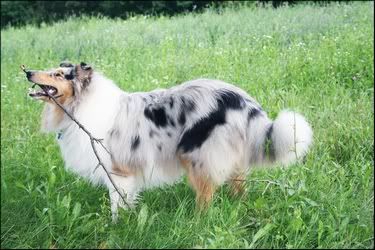 6/7.6.2009 I Dog Shows CACIB Portorose and CACIB Alpe Adria, Slovenia
This weekend was our third dog show. On the first day Sky was great, she was a little bit afraid of the ring because a big piece of cartoon feel on her when we were practicing earlier that day, but she got very promising and later came among the finalists in BIS puppy. So I was very proud of her!
(c) Katarina Petrič With the judge Beata Petkeviča
The second day was a little bit less successful...We got a judge from Venezuela, who was very nice but also very big and Sky got really scared of him. She doesn't trust strangers at all and she doesn't want to be touched if she doesn't know people. So she almost ran off the ring and even if we got a really nice description, she got only promising because of the funny presentation. So I decided to take a little break from all these shows and focous on more fun stuff like agility and learning tricks. We will also work a little bit more on socialization and try again when she grows a little older. I know she is a very beautiful and smart collie-girl and I am so happy she is mine!
With the judge Cristian Stefanescu
31.5.2009 I Dog Show CAC Hrušica, Slovenia
We went to our 2nd dog show with Sky's sister Glory. The girls did great and both got 'very promising' :)
The judge Brigita Kremser With her sister Glory
29.5.2009 I Sky is 7 months old!
Happy birthday my beautiful lady!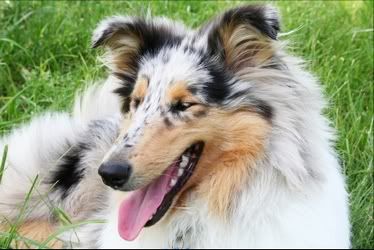 9/10.5.2009 I Sky's first dog show
We went to out first dog show in Umag, Croatia. It was a two days international cacib show. Despite our lack of experiences and my nervousness, we did great. Sky was evaluated very promising baby on both shows and received great description from an Irish judge SEAMUS OATES ( who judges also in world's dog show Crufts) and Croatian judge SINIŠA CUJAN . You can read those fantastic descriptions in Shows
Sky was even the forth most beautiful puppy on the first BIS puppy show! More photos in gallery
With the judge Seamus Oates
With the judge Siniša Cujan
In BIS
2.5.2009 I It would be Gaja's 16th birthday today.
I miss you my angel and I hope you are happy on the other side of the rainbow playing with all your friends there. I will never forget you because you willl live in my heart forever!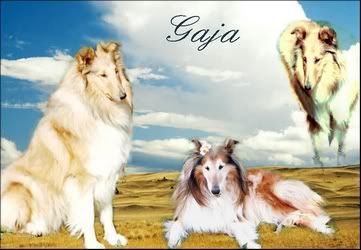 29.4.2009 I Rome; Sky 6 months!
I took my princess to Rome for her half - year's birthday present!
Rome Ostia Anticha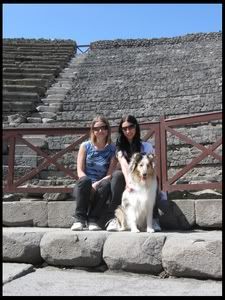 Pompei
26.4.2009 I Sheepdog
Today I took Sky to a Test of Sheepdog Natural Aptitudes at the Sheepdog Isontino with Martina Bossi.
She did great, she knew right away what she was expected to do any really enoyed herding those sheep. The tainer sees great potential in her and invited us to come back and practice some more.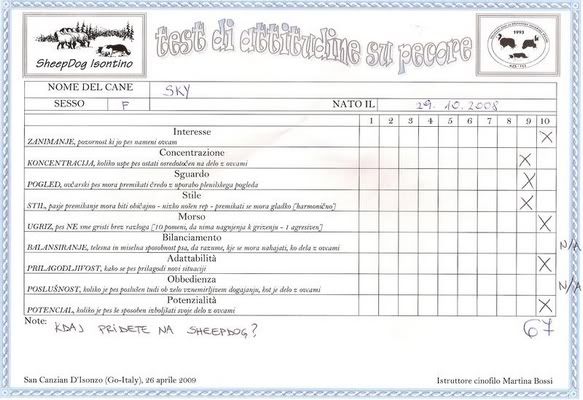 She got 67 points out of 70, but she wasn't evaluated for obedience and balance as she is still a puppy.
And that is Sky in the act.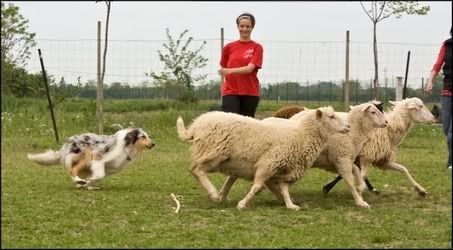 (C) Maja Rokavec
Also her sister, Glory, was there. They haven't seen each other for more than 4 months, but it looks like they are still great friends. Glory was amazing at the herding and got the highest score of all rough collies!
10.4.2009 I Sky at the seaside
We took Sky to Slovenian seaside for the first time. The weather was great and we all enjoyed the walk on the beach. A photographer Gregor Kervina joined us on the way and he took some truly beautiful pictures.
29.3.2009 I My baby is 5 months old!
Happy birthday my beautiful girl!
I took her for a nice walk with her favourite friend, As :)
22.3.2009 I Puppy school in Ajdovščina
Today we went to check puppy's training in Ajdovščina. There were a lot of puppies and Sky really enjoyed meeting them. But of course she loves spending time with her friends Riva and As the most.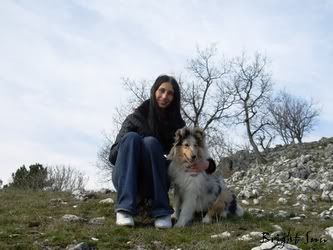 She was full of energy that day and since it was a beautiful sunday afternoon, I took her with us to her first real hike. She absolutely loved it!
16.3.2009 I Puppy school in Ljubljana
Today we went to our first puppy school meeting with Silvia Trkman in KD Ilirija.
Sara and Riva joined us and the trip was much easier with them. The school was great, we met a lot of super adorable puppies and we learned a few new tricks. We also saw a very beautiful 3 months old sable rough collie Melly. She is just like my Gaja used to be as a puppy!
15.3.2009 I Dog training school in Ajdovščina
We went to the opening of our dog training school in Ajdovščina. Also Polona and As went with us and they played with Sara's Riva and a border collie Glen.
8.3.2009 I A trip to Maribor
In Maribor we met a lot of new friends. The most interesting two were Sibila and her 3 months old border collie Mimi.
They were getting to know water... ...and enjoyed each other's company
It was a great, sunny day, so we went for a walk along the river Drava.
(C) Jasna Furlan
7.3.2009 I Visit of Sky's relatives
We went to Kisovec to visit Neda and her Holy Collies. Sky was a little tired from the trip, but still happy to see her breeder Neda, her 'aunt' Dolly and little half sister 'Black Madonna' - Lily.
(C) Jasna Furlan
28.2.2009 I Sky is 4 months old! Happy birthday my little princess!
She is growing up so fast and becoming one foxy lady! =)
25.2.2009 I 3 months old Sky met her first dog friend - Appenzeller As