MORE RECENT NEWS: WINDY LANDS BLOG
Damon is multi ch
It's official! Damon - Absolute Dynamite of the Windy Lands (SLOVCH, SLOVjCH, CROCH, CROjCH, SERBCH & INT*CH Essanjay Encore x CROCH A Blue Pearl of the Holy Mountain) is now a Finnish Beauty Champion, a Slovenian Beauty Champion and a Croatian Beauty Champion together with Croatian CH club winner, Zagreb '15 winner and Crufts '16 Qualified. He also has 4 Cacibs from 3 different countries Thank you dear Teija Ukkola and Katarina Petrič for making this possible! He is staying with my good friend Katalin Tóth in Budapest, Hungary until February, after that he is returning back to Finland. He is available for approved bitches. If you are interested in using this superb male, contact me! He is a proven sire of 7 beautiful litters with one on the way and he is a sire to class winners, cq winners and a Lithuanian j champion.
Damon's info:
HIPS AA, ELBOWS 00
CRD/PRA/KAT FREE as puppy and adult
MRD AND DM CARRIER
FINNISH MENTAL TEST, GUNSHOT SECURE
Amazing show weekend in Zagreb!
What a fantastic show weekend for Sky's children at Zagreb this weekend!

Our Finnish guest, the handsome Damon - Absolute Dynamite of the Windy Lands won his class with a CC and BOS at a club show, gaining a Croatian CH club title, a CC, CACIB and BOS on Saturday, qualifying for Crufts and a CC, CACIB and BOS today, becoming Zagreb winner 2015 as well as a Croatian beauty Champion!

The youngest male of our kennel, the sweet Kai - Bejewelled Sky of the Windy Lands, had his show debout at a club show, winning his class with a j CC gaining his Croatian jCH club title and continuing on Saturday with a jCC and finnishing his Croatian junior CH by winning the last jCC and jBOB, gaining also a title Zagreb junior winner. What a start of a show career! He was handled by his co-owner, Gordana Lešnik. The two were great in a ring even if it was the first time for the both of them!

And lastly, my heart girl Lani - Beyond Limits of the Windy Lands did me SO proud at a club show winning her class, jCC, jBOB, gaining her Croatian jCH club title and finally winning JUNIOR BEST IN SHOW!
Couldn't be more proud of my three special babies!
Damon in Slovenia!
My very special boy from our first litter - Damon (Absolute Dynamite of the Windy Lands), living in Finland with Teija Ukkola and her Windy Forest's collies came to Slovenia on holidays! He will be staying with Katarina Petrič (Aydeen collies) and us for a few months. He is still the same super cuddly and very active boy as he used to be. I love having him here and his family adores him. He is shown by Katarina Petrič and me and is taking show rings by storm! We are really enjoying this little time with him ♥ Thank you dear Katarina for making this possible!
Nyxi breeding exam
Nyxi passed her breeding exam with flying colours, the judges praised her beautiful body, nice substance, good movement and really nice, steady calm character. We also tested her hips which are a perfect A, so we are now looking forward for some puppies when she is ready!
Summer - Show success
It's time for show again! Our English princess Nyxi - Gemheid Light of My Life has hit the show ring after the break and she's been winning all summer!
At a national show Cac Rogla she won her class, was best bitch and finally best of breed under the judge Jadranka Smojer Selimović (Hr).
At international show Cacib Bled she won her class and was best adult bitch, winning her second Slovenian Cacib under the respectable judge Sašo Novak (Slo). This is her 2nd CC in Slovenia in a row!
Last day of August was a show debut for the first of my girls from our B litter - Dream - Be My Sp'Icy Dream of the Windy Lands. She behaved wonderfully in the ring and the judge Lisbeth Mach (Ch) praised her lovely character and beautiful appearance. She won her class and was awarded best puppy in breed. Thank you to her young owner Barbara for preparing and training her so well for the ring! Her sister Lani and cousin Nyxi were there as well, cheering for her:)
Next show was in a beautiful little Croatian town called Samobor and this time it was a show debut for my special baby girl, my silver jewel Lani - Beyond Limits of the Windy Lands. She also behaved wonderfully in a ring and got admired for her happy, brave character and wonderful silver blue colour. She won her class and was later best puppy in breed under the judge Tibor Havelka (Sk). Her show companion was our English star, Nyxi - Gemheid Light of my Life, who won her class and got her second Cc in Croatia. She is now halfway through towards winning her her Croatian Ch title.
Next weekend it was a lovely show at Slovenian Coast called Cac Obala. It was time for the third of our girls from the B litter - Tara - Black Swan of the Windy Lands to show her charms and she did a great job. The judge Mirja Lapajne (Slo) admired her wonderful character and beautiful development. Tara won her class and was best puppy in breed. Thank you to Tara's co-owner Danijel for preparing her so nicely for the show.
This show was also a show debut for 'the baby of the 'Windy Lands' - our wonderful silver girl, Paikea - Celestial Legend of the Windy Lands. She also behaved really nice in a ring and the judge praised her character and her amazing blue colour. She won her class and got the title best baby in breed. Thank you to her co-owners for preparing her for the show and for letting her stay on a little holiday at Windy Lands before the show:)
In September, Nyxi was shown at Cac Karlovac and she won her third CC under the judges and Francesco Cochetti (It)
June - July 2015 Girls from C litter are leaving for the new homes


Also our C litter is growing up. The first to move into a new home was our Emi, who is now called Lori. She lives with her uncles Messi, a silver boy from our A litter.


The second was Rhea, who went to Switzerland with her super mum Amy. She now lives at the kennel Collies Von Schinznacherweiler.



The last one to leave home was our little crazy hurricane Ria, she moved to Italian Tuscany with her incredible mum Caterina. She lives with a little mixed girl and with another collie girl Babi.




Our silver beauty Paikea stayed with her mum Mei and lives in co ownership with family Zrimšek. She looks the most like her famous daddy Legend and I am so happy we can keep her. She has a wonderful character and the most amazing silver blue colour. She stayed at Windy Lands for a few weeks and we had a lot of fun with her.


28 July 2015 Windy Lands family meeting at Cerknica Lake
We spent a lovely day in the company of puppies from our 3 litters and their owners and some other collie friends. We met Messi and Mei from our A litter, Natti, Kai, Tara and Lani from B litter and Pai and Lori from C litter. Thank you Irena for bringing our special girl Nyxi and for all these lovely photos.
April- June 2015 Babies from B litter are leaving for new homes
Our puppies are already 9 weeks old. Time really flew and it is time for them to move into their new homes. I thought it would be easier with the second litter, but it's just as hard, if not harder. All the puppies have such wonderful cuddly characters and it is really heartbreaking to say goodbye to them. But I am also happy as they all got wonderful new homes and are making their new owners happy.
The first to leave Windy Lands was our black princess Dream. She now lives with a 12 year old girl Barbara, they go to a dog school, are already training for shows and are overall taking a wonderful care of our girl. We visited them in their home in Ljubljana and later also on holidays in Kobarid. The girls recognized each other straight away and played for hours.
The second to find a lovely new home was Siyah, who is now called Sia. She lives with a nice family only half an hour from here, so we see each other a lot. They have two small children who adore her and we all go to a puppy school together with Tara and Lani. The girls are always very happy to see eachother.
The first boy who left Windy Lands was my very special boy Kai. He is the cuddliest and sweetest of them all. He would always come into my lap and stay there for hours. I think my friend Gordana is the only one who I would entrust that special baby. She had 2 collies before and is such a loving person. Kai now lives with her, his big brother Badi and Gordana's lovely family in Ptuj. He goes to a puppy school too and already knows many tricks. I visited him two times already and he is always beyond happy to see me and his sisters. Kai is co owned and will be shown by me.
The next boy who moved into a new home was our special baby Sid. He also is super cuddly and lovely and he is very special also due to his unique markings. Every visitor first noticed him and he was my mum's favourite:) He now lives at the Slovenian seaside with 3 lovely children and a big sister Lassie:)
Natti stayed with us for 3 months and I got really attached to her. She is not only amazingly cuddly, loving, outgoing and brave but also has such a wonderful face and expression. I was very picky and selective as to who to entrust my special beauty but when Boštjan came to visit, I saw it was love at her first sight. So also Natti moved to Ptuj, to live close to her brother Kai. She now lives with Boštjan and a big brother Jack. I spent a wonderful weekend with them all and I know I did the right decision sending Natti to Boštjan and Kai to Gordana.
My special babygirl Tara stayed with us for almost 4 months as her owner Danijel was moving house. She now lives only 20 min away from us and visits us often. She is co owned and will be shown and bred by me. We are always happy to have her back at Windy Lands, her sisters and mum adore her.
The last to leave home was our most impressive boy, Neel. With my dear friend Katarina Petrič (kennel Aydeen) we took him to Munich to meet his new mummy, Karen Jondahl. It was so wonderful to meet this famous dog breeder who is such a nice and lovely woman. We also had the chance to meet the spectacular Basil - World Winner Shep's Gonzages Que Guapo. So Neel now lives with Karen and her Shep's collies in Denmark. He slept during the entire road trip just as Lani did as I took her with us to Munich to keep Neel company. I am really thrilled by these puppies easy going, open, fearless characters.
Neel be happy in your new home, we miss you terribly at Windy Lands!
8 May 2015 Sad day at Windy Lands
Today our little Pika from C litter lost her fight. She got water in her lungs during a difficult birth and she was fighting hard for a month and it seemed like she was going to make it...the owners of Mei were incredible, doing everything in their power to save her. She lived to be one month old and we really believed she would pull through...but her little heart gave out today. We are all so sad...sleep tight, little angel and run free with my first collie, Gaja, and their first collie, Rhea ♥ You will live in our hearts forever!
30 April 2015 Girls from C litter are 3,5 weeks old
Our girls are growing fast! They all walk, run, play and eat by themselves!
23 April 2015 Our B litter is 2 months old!
Our little bandits are 2 months old! Can't believe how time flies! They will soon start leaving us to move into their new homes. This will be the most difficult part of the breeding - saying good bye:( I love every single one of them dearly, they are not only stunningly beautiful but also have amazing, brave and super loving characters!
17 April 2015 Girs from our C litter are 10 days old!
The girls are 10 days old and doing great. Milena and Vojko, Mei's co-owners are taking a fantastic care of them and I visit them as much as I can.
7th April 2015 Our C litter is born!
And what a litter it is - Mei & Legend gave me 5 gorgeous girls! We have three stunning blue merle girls and two beautiful tricolor princesses. I am so proud and happy ♥ The litter is in Koper, on the Slovenian coast, where Mei lives. I am so grateful to her co-owners for taking such a great care of the little ones! And I will always remember this date at it is my dear sister Ana's birthday today:)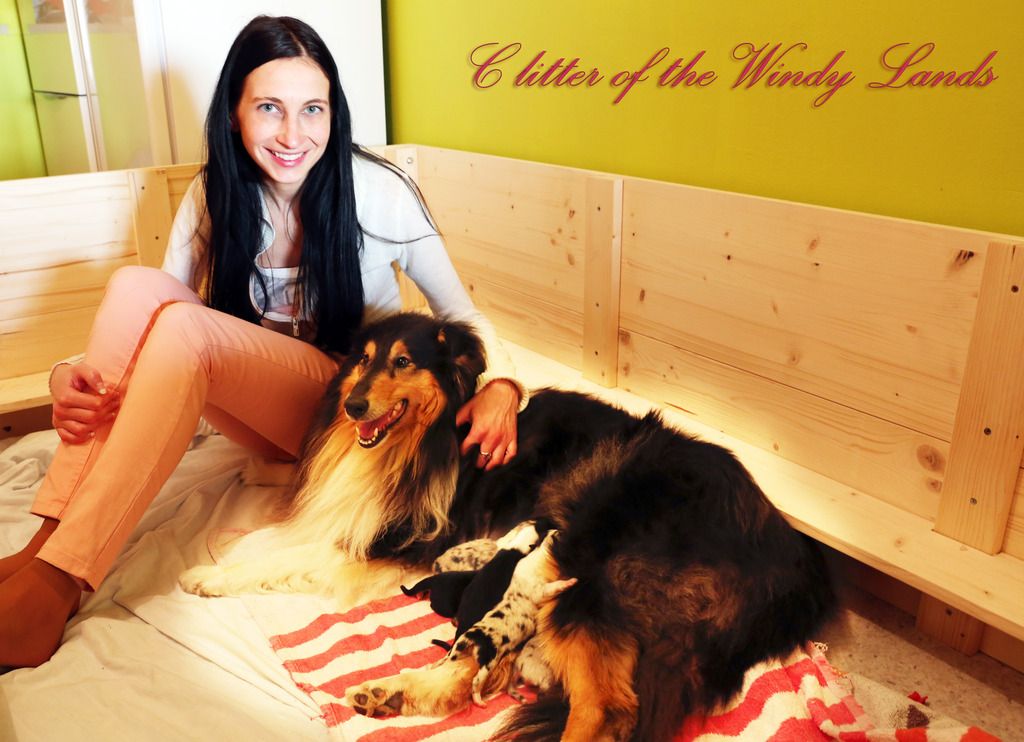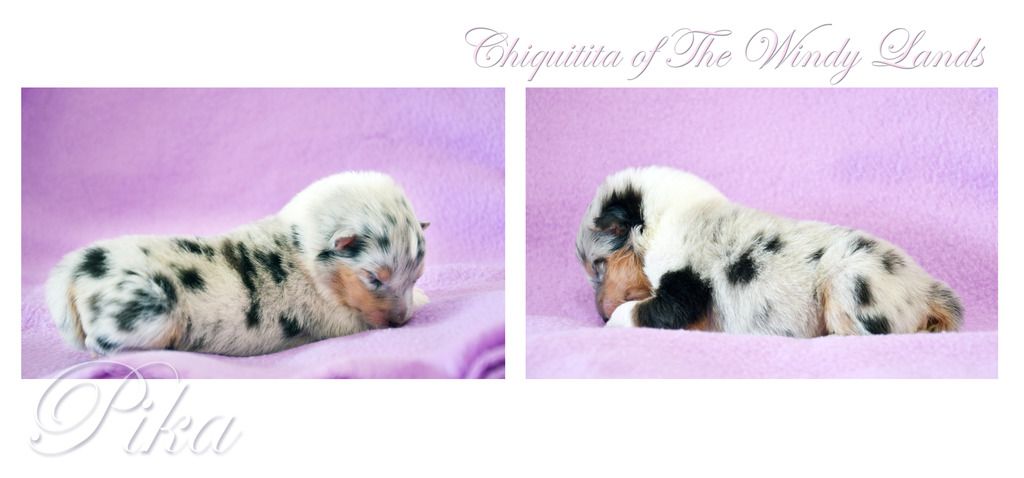 More photos in album > C litter <
6th April 2015 Puppies are 6 weeks old
Puppies posed on the table for the first time. They did a great job - thank you Sara Klain for all the help!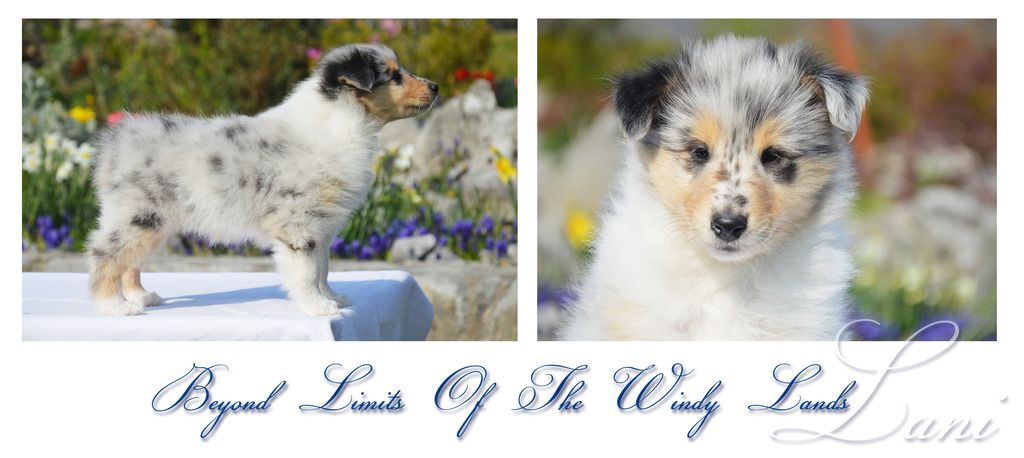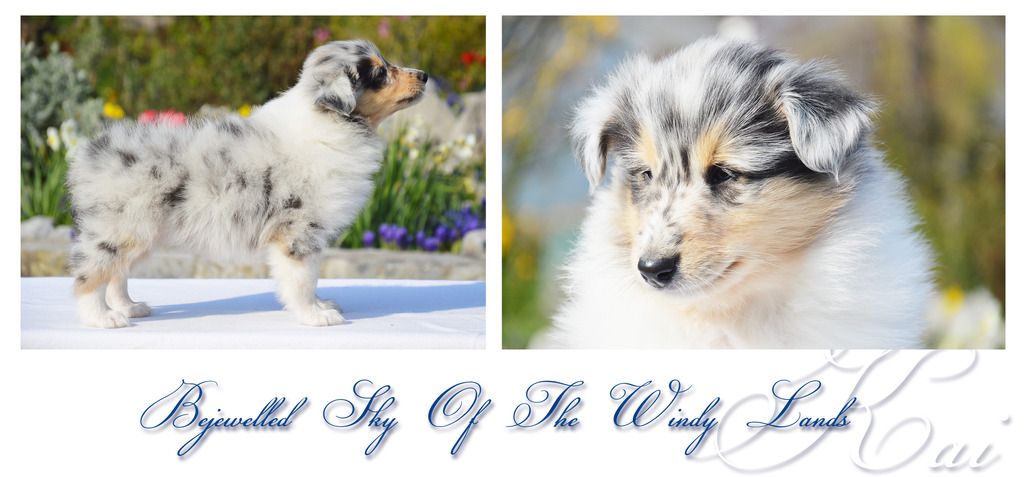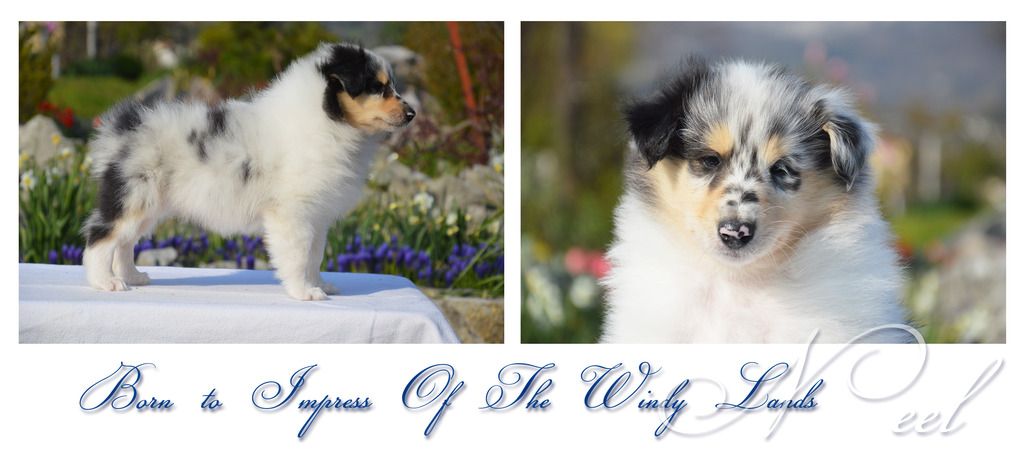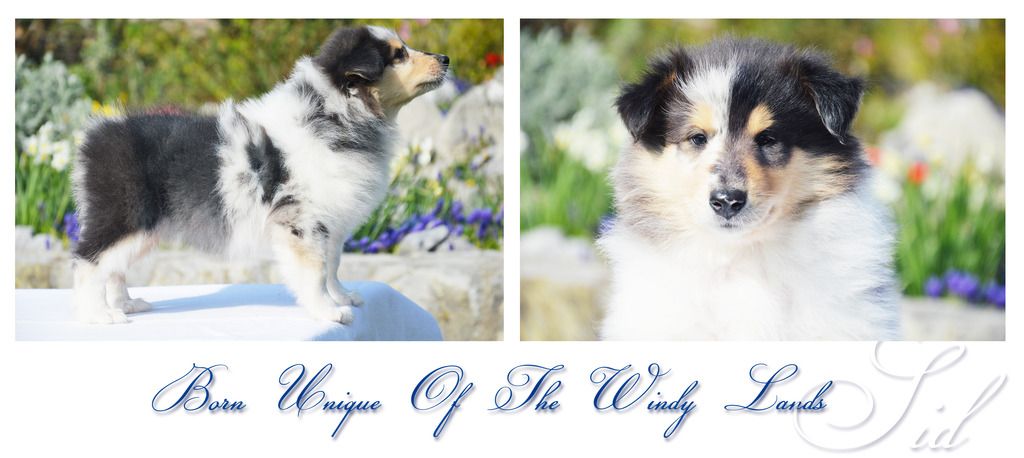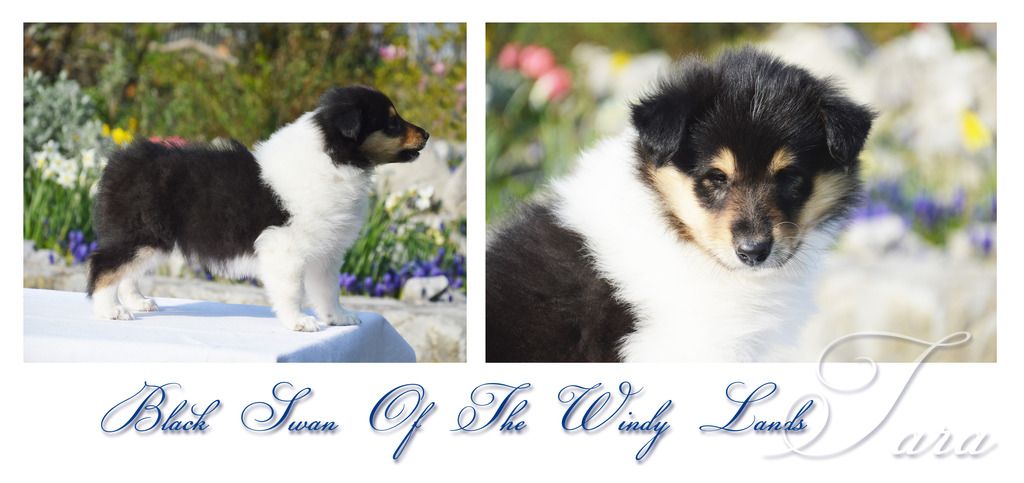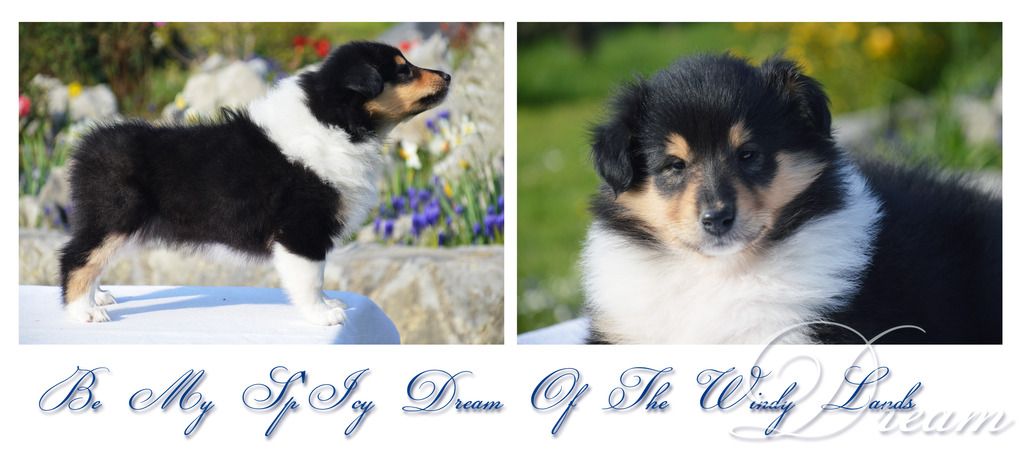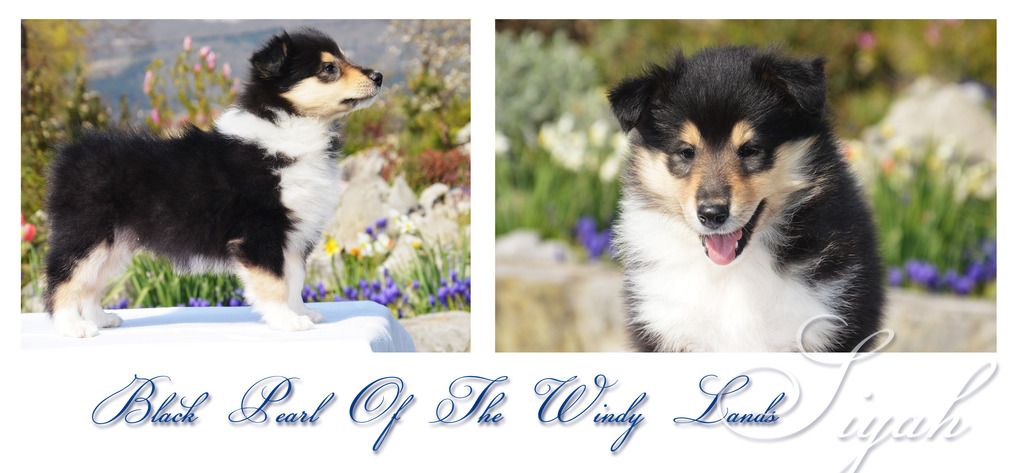 My sister Ana, who lives in Dubai, visited us. She completely fell in love with the little ones ♥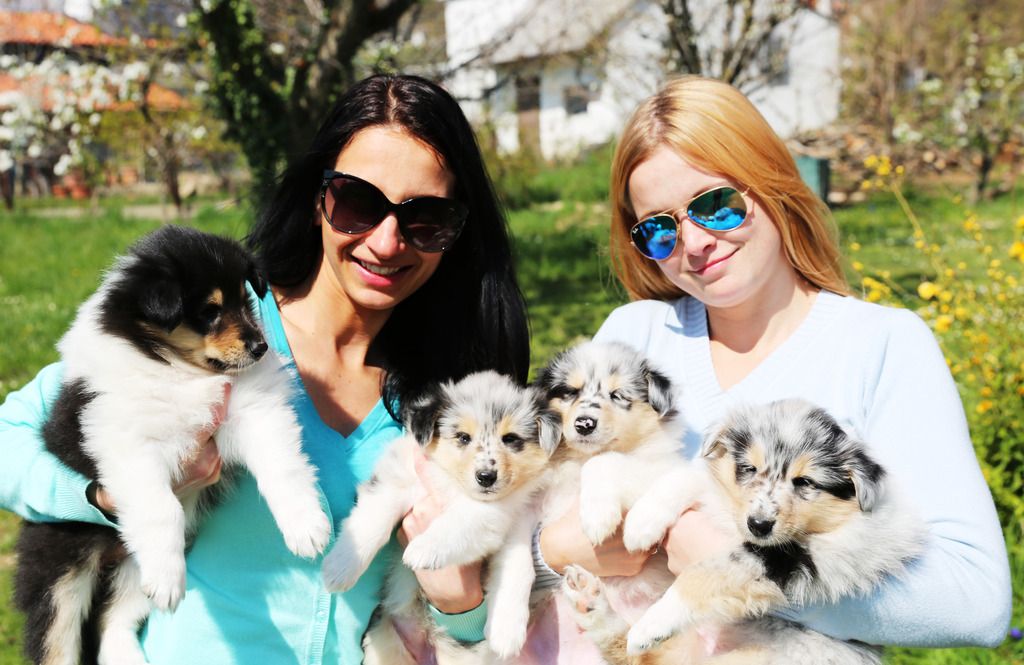 We went to the eye specialist 2 hours away from here. Puppies all have healthy eyes, they were amazing during the long car drive and very curious and brave at the vet clinic, making everybody fall in love with them!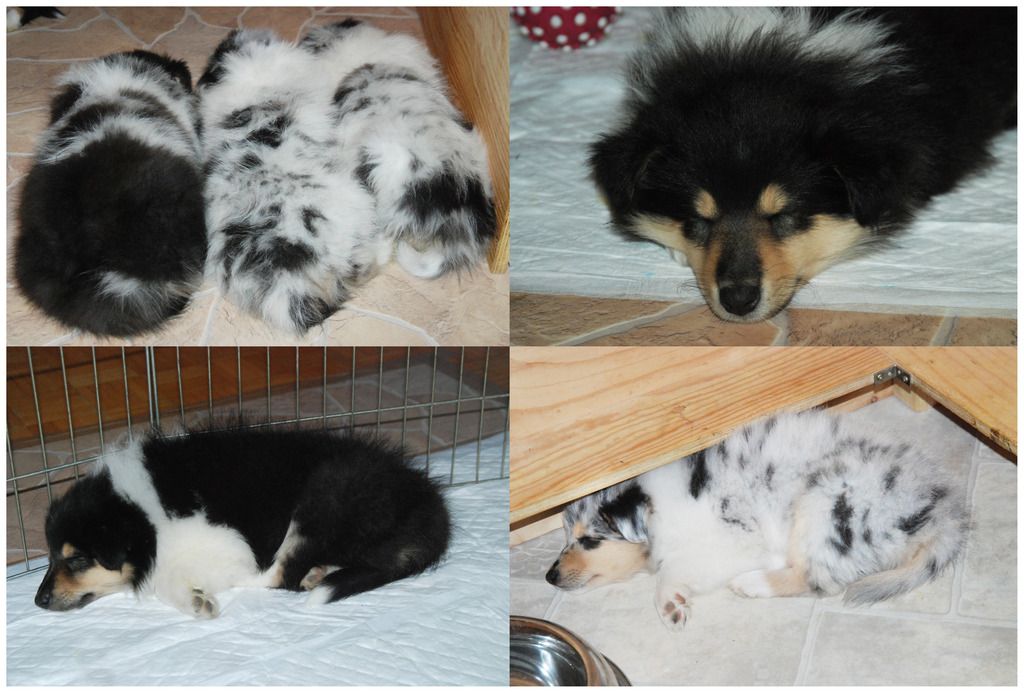 Here they are, tired after a long and evenful day!
More photos in album > B litter <
23. march 2015 Puppies are 1 month old
Our B litter is 1 month old. The puppies are growing fast, they are becoming more and more active, brave and playful. Sky is a wonderful mummy and the big sister Lia is thrilled by the new playmates:)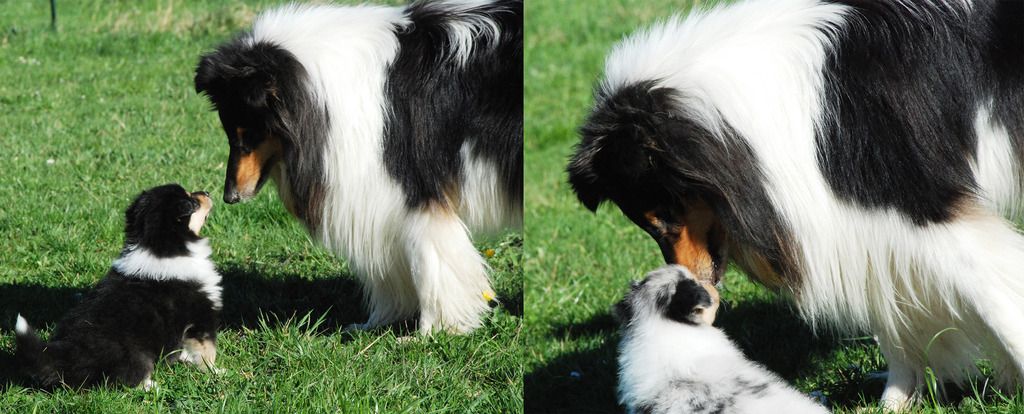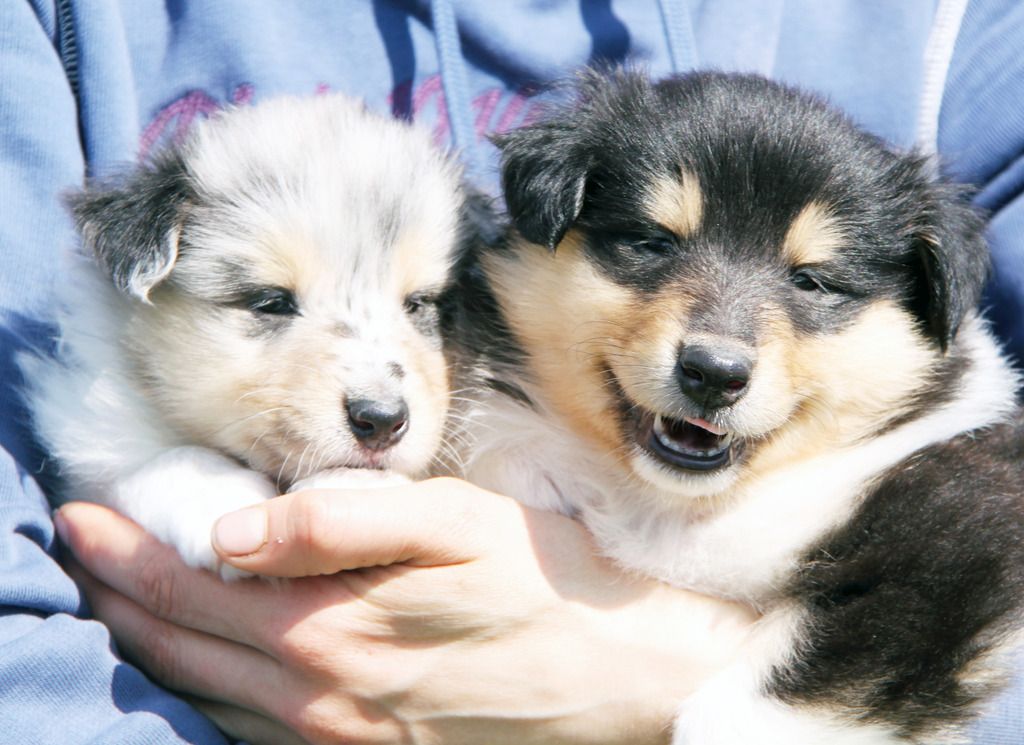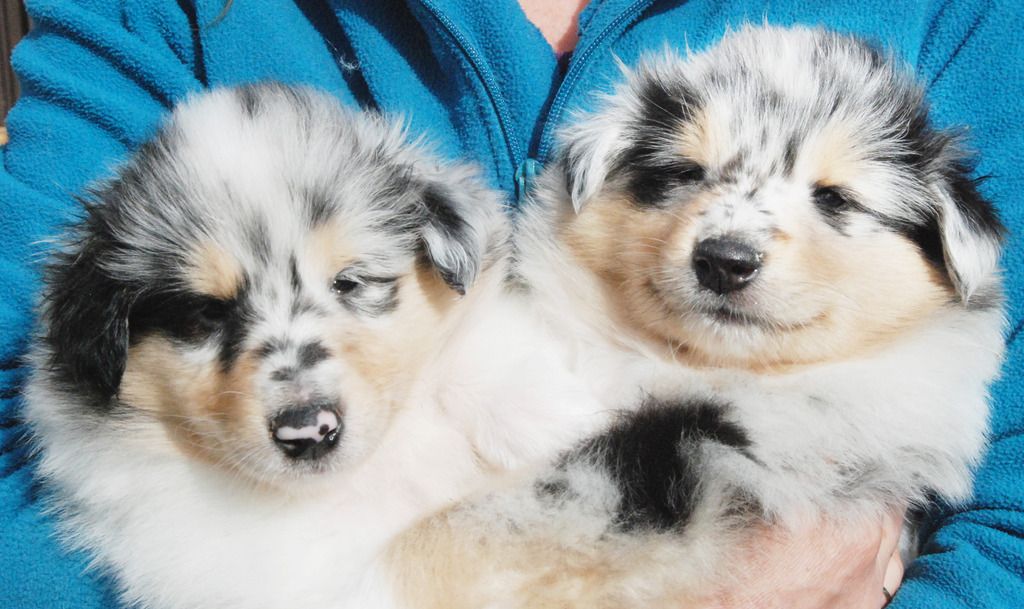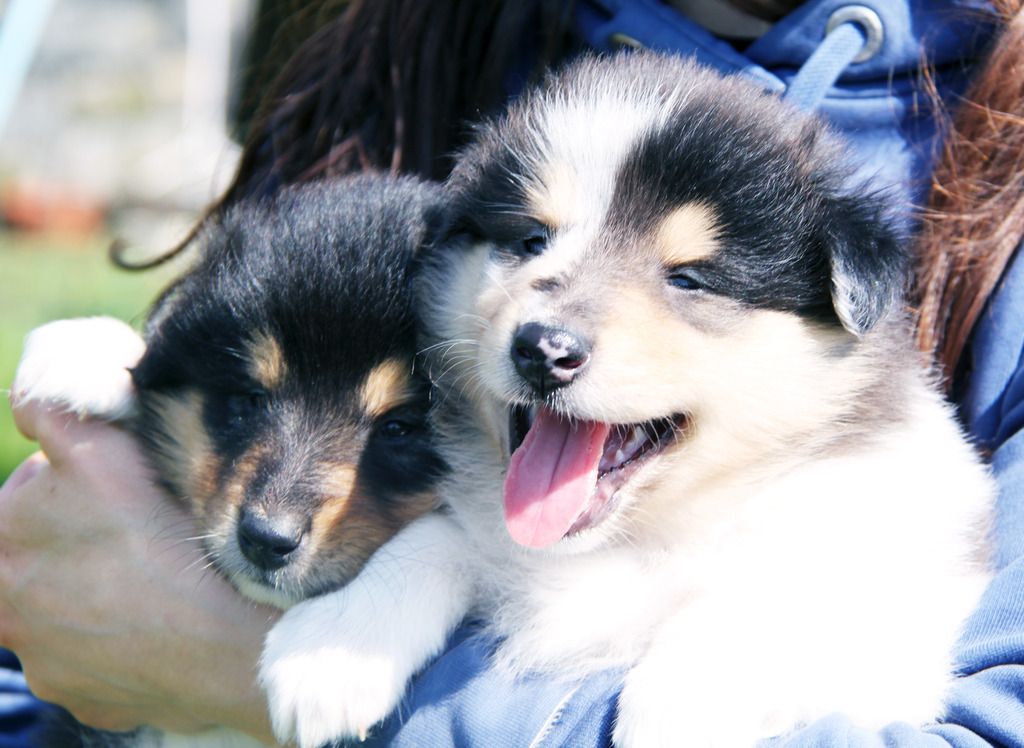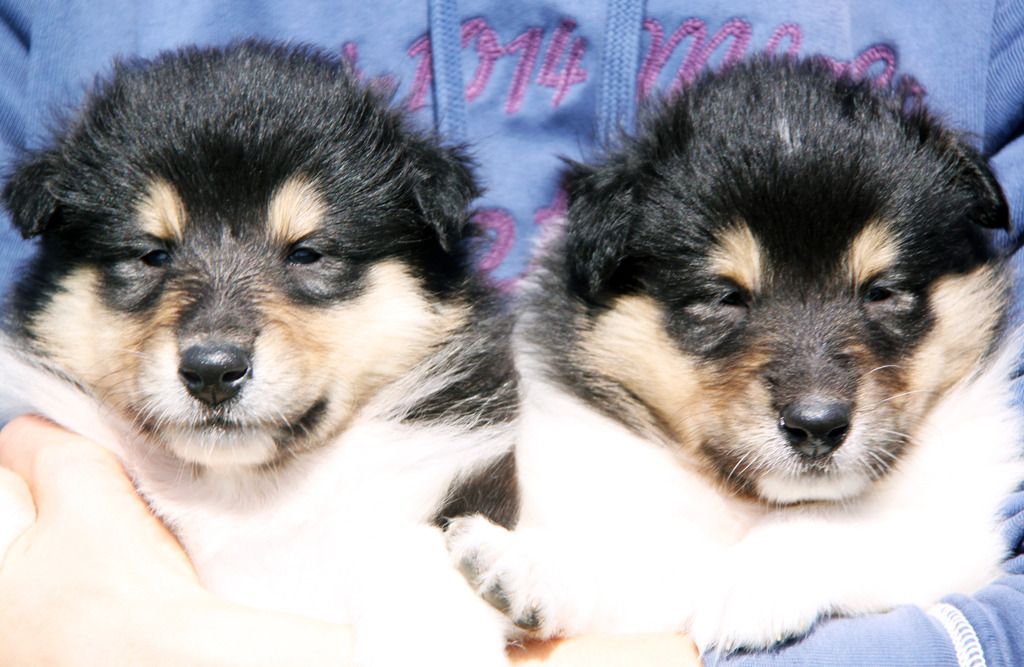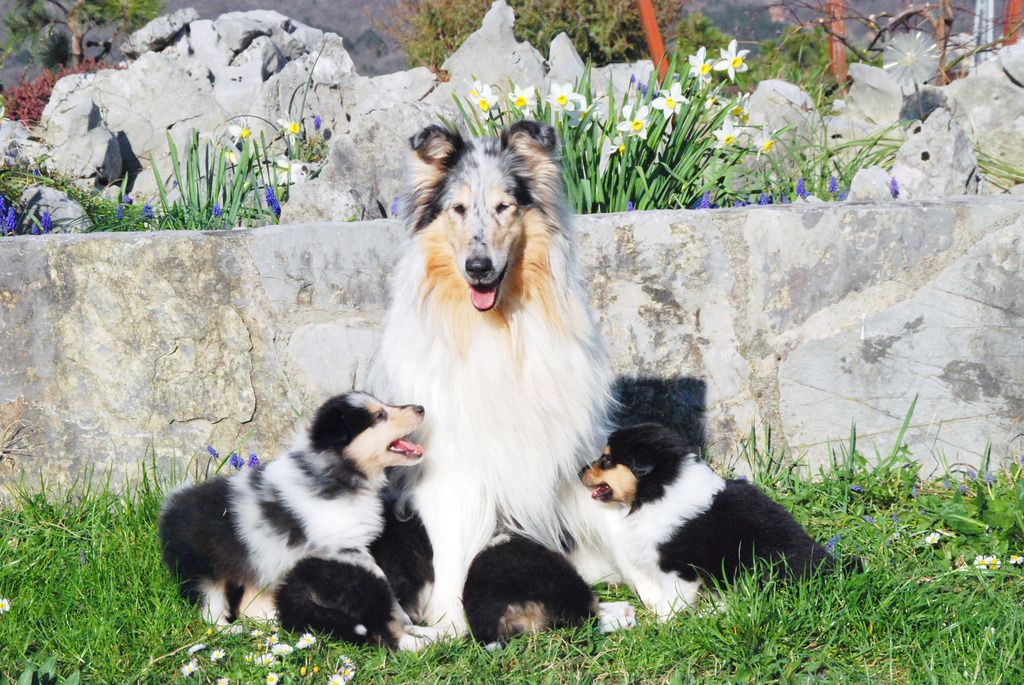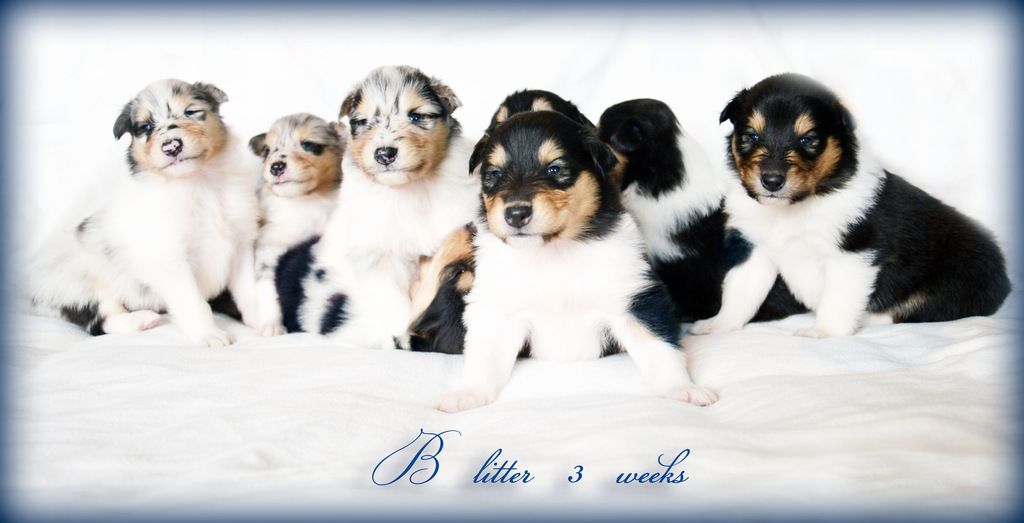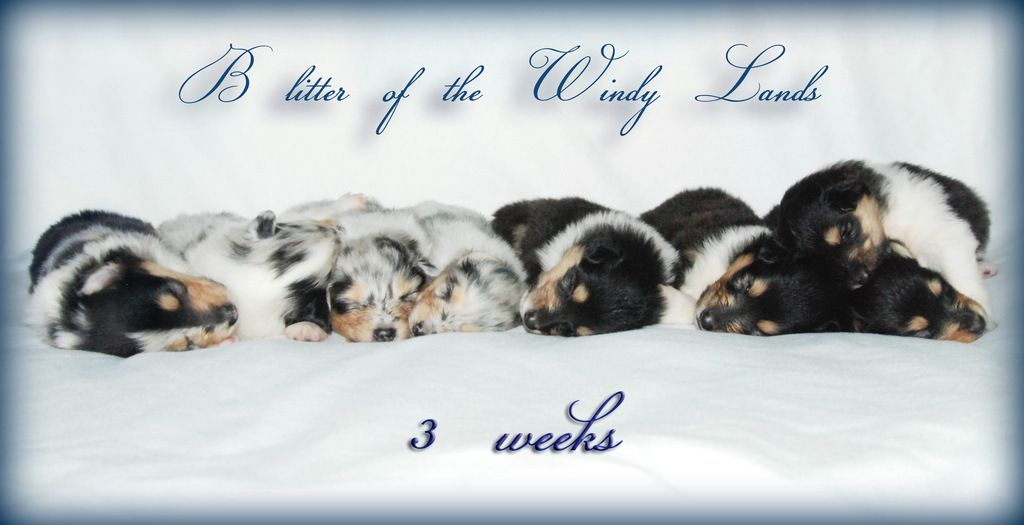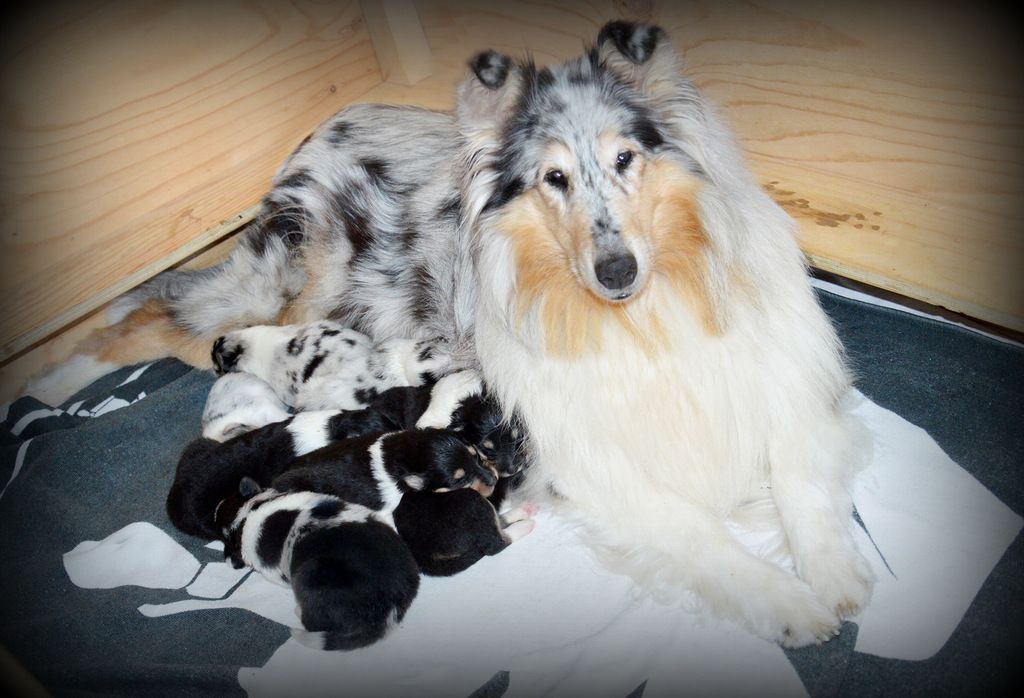 More photos in album > B litter <
23. February 2015 The puppies are here!
On the night of 23rd February, Sky gave me the most beautiful present - 8 gorgeous fur babies! We have three stunning blue merle boys, one wonderful blue merle girl and three beautiful tricolor girls.
Some of the puppies are still available. All the info at windylands@gmail.com
More about the litter > click <
8-15. Februar 2015 Nyxi is Slovenian and Croatian junior Champion!
Nyxi - Gemheid Light of my Life is rocking the show ring! She was twice cac, r.cacib at the inter show in Rijeka, Croatia and she has fulfilled the conditions to become a Croatian Junior Champion! The judge on Saturday was Joyce Crawford-Manton from Ireland and on Sunday the breed specialist, a very respectable judge from Finland, Mr. Rainer Vourinen.
A week after we went to Cacib Celje, Slovenia, and she was rec. Cac the first day under John Walshu and cac, CACIB on Sunday under his wife, Joan Walsh. With that she became a Slovenian Junior Champion as well as Winter Winner 2015!
I couldn't be happier with our Black Beauty!
22. January 2015 We expect puppies end of Febuary!
After a 3 year break, we feel it's time for puppies again! Our frist litter was a bit difficult due to our little, prematurely born baby Lia. It was really exausting saving her, but Lia has grown into a wonderful, happy, energetic girl, who really appreciates her life and knows how to enjoy it and have fun. She is our little sunshine who brightens our days. I will never regret my decision of saving her!
Our 'mummy' Sky had a date with a fabulous young male Jett on a Christmas day and her pregnancy was confirmed today! He carriers the best of Wicani lines, mixed with some old American Van M lines. He is not only strinkingly beautiful, but also has the most wonderful, loving, warm, happy, active and brave character and is a very strong, healthy boy. They were crazy about each other so I can't wait to see their babies end of February 2015.
For more info >- click-<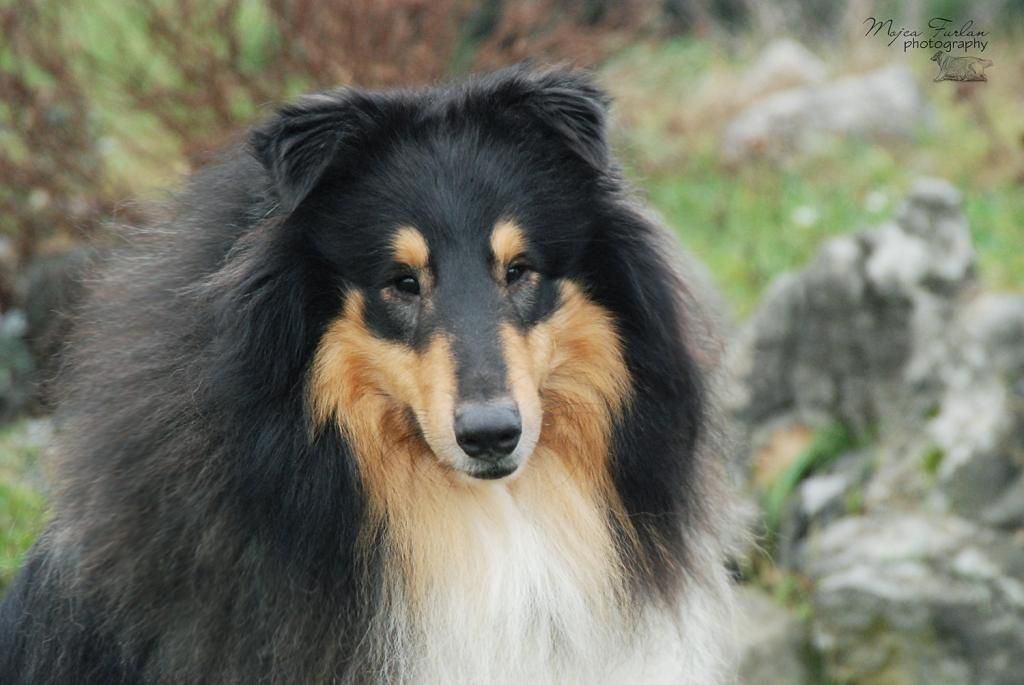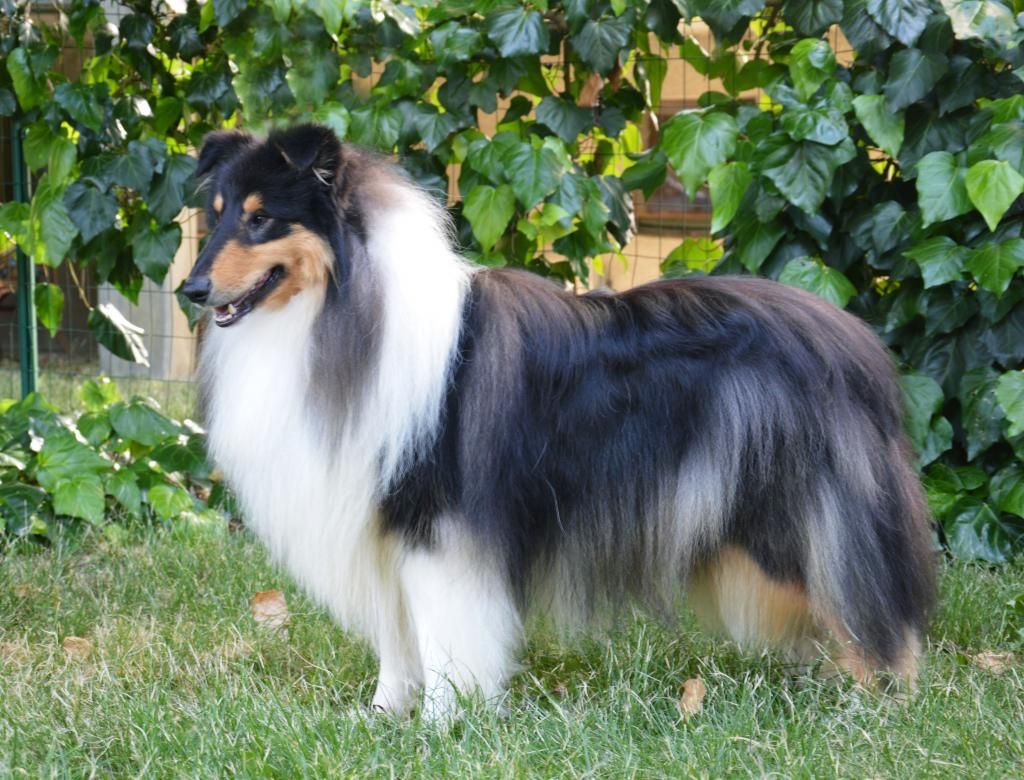 Jett - SloJCH Hot N'Sp'Icy of the Holy Mountain
mdr +/+, dm non carrier, hips A/A
Cro CH A Blue Pearl of the Holy Mountain
mdr -/-, hips A/A, cea clinically clear, PRA genetically clear
Lovebirds ♥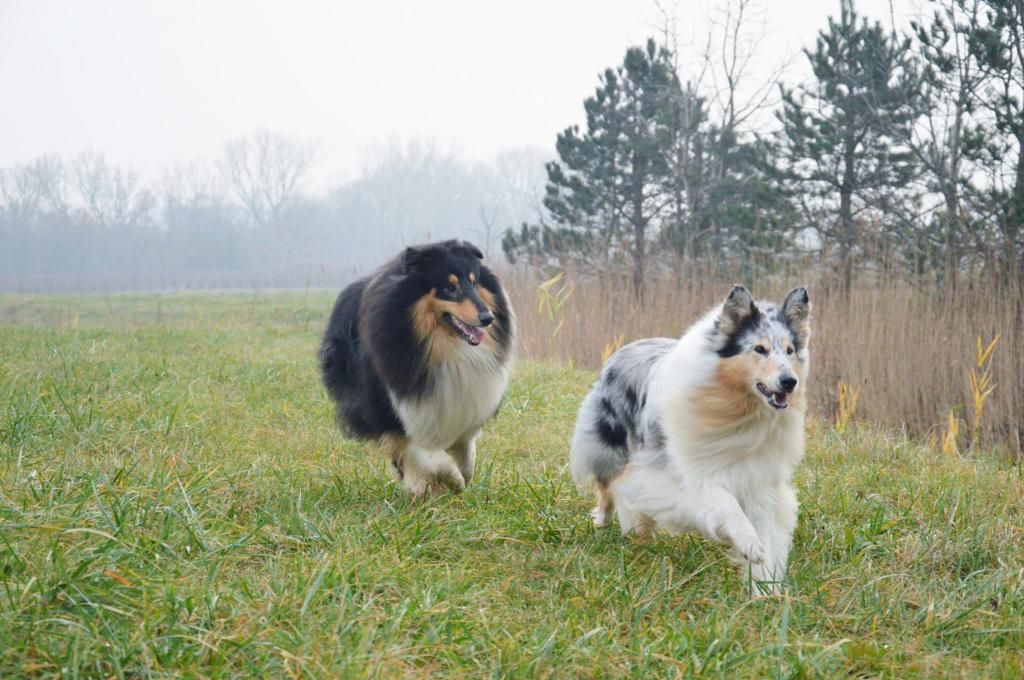 18. January 2015 Cacib Ljubljana
Our Nyxi - Gemheid Light of my Life made me so proud today! She beat a big class or young females, won her 2nd jcc in Slovenia under the breed specialist Lidija Okleščen and won the title Slovenian Junior Winner 2015. Thank you to her co-owner Irena Debevc for taking such a great care of her, brining her to the show and taking this beautiful photo of her!